Virtual reality in the military. - Dr. Tenda
The military adopted VR a long time ago, long before it was available in the commercial market. VR wouldn't be as advanced today if billions of dollars hadn't been invested from the start. The military also funded the development of the first VR headset. Today, the number of VR projects for the military is growing and is expected to generate a respectable $1.4 billion in revenue by 2025. Currently, the military uses VR in all three major areas: ground forces, Air Force and Navy, for flight and battlefield simulation, medical training, vehicle simulation and virtual training camps, and the military has recently adopted VR technology to analyze military exercises and battlefield locations.
1 VR training
About 5% of warrior deaths occur during training. The ability to flip these negative statistics and provide maximum security has given the military a warm welcome to implement VR for training programs. Unlike augmented reality (AR), VR is not suitable for frontline use. However, because it can completely simulate the actual situation, surrounding environment and conditions, its training potential is higher. VR has the advantage of improving soldiers' combat skills without any risk to their lives, and it is cheaper than any real life military operation.
The types of VR military training are: 1. Immersive training -- helping trainees overcome all the stresses (claustrophobia) of parachute jumps, fighter jets, submarines and tanks; 2. 2. Situational Awareness -- In extreme environments (jungle, Arctic, desert missions), navigation and training becomes more realistic with the advent of wireless and mobile VR systems with the ability to move freely. These virtual boot camps typically include: a head-mounted display with an activity tracker, a special weight-bearing vest with batteries and a wireless PC, a body movement tracker; Training weapons are equal in size, weight and shape to real military armor
In addition, new advanced technologies such as VR haptic feedback kits are also being developed. The next area of use is medical training, which aims to enable military medical teams to work quickly and professionally in dangerous situations.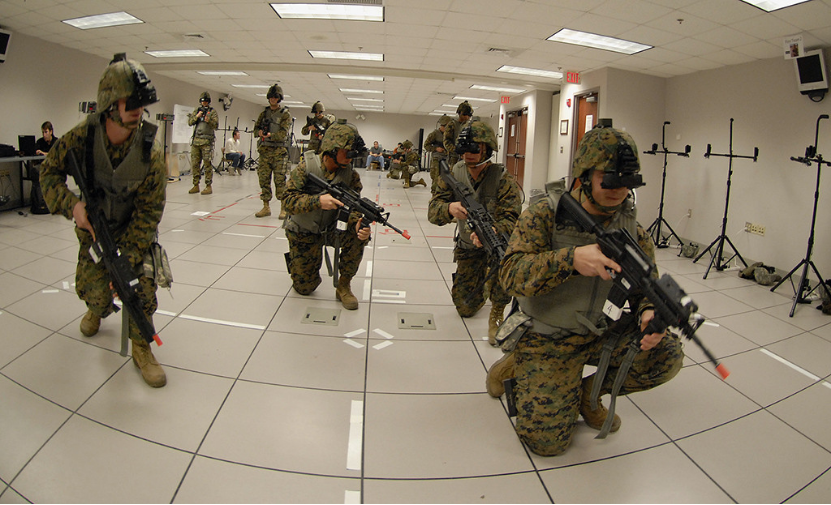 Figure 1 VR military training
2 VR Simulator
Pilots can use VR simulators to study simulated environments, including dangerous scenarios with realistic conditions that might occur in a real flight, without putting themselves or the aircraft at risk. Few vendors of virtual military simulators (such as OTR) create complete hardware/software sets to replicate the cockpit, controls, and dynamic characteristics of a particular aircraft in order to improve cockpit familiarity and skill retention.
Future Combat System (FCS) -- is the main type of VR simulation, primarily applied to ground vehicles, mortar vehicles, reconnaissance or infantry carriers, and even tanks or armored vehicles. VR environments recreate different weather conditions and conduct training navigation in unknown locations.
Unlike previous types, using VR Naval simulators focuses on rebuilding the ship's bridge and then replicating the environment. The main objective of the Seamanship Technology, Navigation and Ship Operation Trainer (NSST) simulation is to provide soldiers with every possible situation and training to operate in the most difficult situations.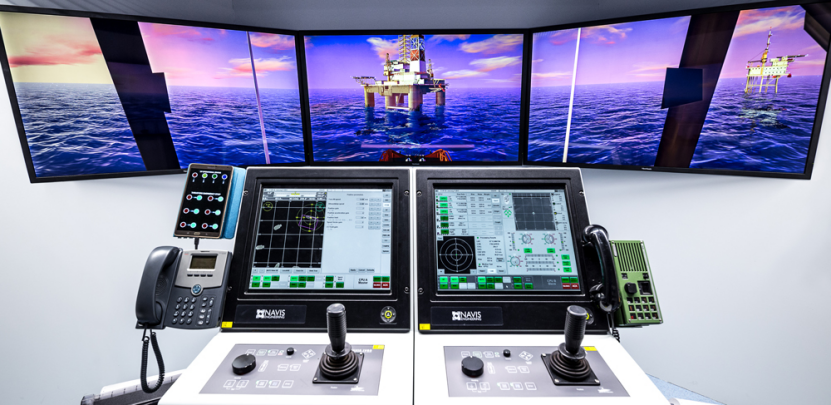 FIG. 2 Virtual reality in the military
3 VR treatment
About 20 veterans are dying every day, and in most cases, these soldiers are suffering from post-traumatic syndrome. Since 2005, virtual reality has been used to treat post-traumatic stress syndrome. Two products emerged in the early stages of development: "Virtual Afghanistan" and "Iraq". With such VR apps, soldiers can experience different combat scenarios that have affected their minds, aiming to overcome fear and recover.
Benefits of virtual reality in the military
Providing security is one of the main advantages of virtual reality in military training. Moreover, simulations can prepare for different dangerous scenarios on the battlefield in a controlled environment. Key benefits include:
1. Realistic scenarios. Recreate the same environment as the real one, but with 100% control.
2, high cost performance. VR can reduce training costs, mainly due to the less likely "wear and tear" of HMD and associated equipment and logistical issues. Replicas of weapons or vehicles also cost less than the actual inventory.
3. Measurement. Immediate feedback on each participant and their performance, as well as detailed information on all aspects. This helps coordinate further training to correct the individual's strengths and weaknesses.
4. Better engagement. Since most VR training is game-like, soldiers find it more fun, however it also means a higher level of engagement and understanding.
Case analysis:
The city of Fort Fort, North Carolina, is developing a VR program that will provide practical training programs while minimizing risks to soldiers' lives and health. The program allows teams to maintain combat experience or prepare for new missions.
Australia is funding the Defense Science and Technology Group to develop A VR training program for the military. The lead professors in Albert Rizzo's team, Rohan Walker and Eugene Nalivaiko, tried to prepare soldiers for all the situations that might be waiting for them.
On the hardware side, there are some interesting VR weapon developments. UCVR created a model that is identical to the original bazooka that can be used in the HTC Vive headset. 1:1 high imitation machine, equipped with force feedback vibration system, weighing up to 2.8kg, the maximum operating range of 2100 m, the maximum effective range of 300 m.
Another example, Striker VR can train shooting skills. The company aims to equip their product "Tactile VR Gun" with the best haptic feedback system on the market. Effects include single shot, ammo, three rounds, chain saw, and pulse rifle replicas. Another feature of the gun is complete portability and free mobility.
As we can see, virtual reality has a wide range of applications in the military field. It takes combat training to the next level, provides skills and knowledge, and allows for practice in safety. Moreover, it helps improve combat skills, teamwork, situational awareness and stress tolerance.
reference
1. IDC, "Worldwide Spending on Augmented and Virtual Reality Forecast to Reach $17.8 Billion in 2018, According to IDC, "November 2017.
2. Boeing, "Boeing Tests Augmented Reality in the Factory," January 2018.
3. The Detroit News, "Virtual Technology Streamlines Ford's Manufacturing," July 2015. 4. "Toms River MUA -- Esri ArcNews -- 2018," January 2018.
5. Wired, "VR Versus AR: Which Technology Will Win the Battle for Hearts and Virtual Minds?" February 2017.
6. Wired, "VR Versus AR: Which Technology Will Win the Battle for Hearts and Virtual Minds?" February 2017.
7. IDC, "Worldwide Spending on Augmented and Virtual Reality Forecast to Reach $17.8 Billion in 2018, According to IDC, "November 2017.
8. Forbes, "Will China Be The Winner in VR/AR?" December 2017.
9. The Venture Reality Fund, "The Venture Reality Fund Releases 1H European Virtual Reality Landscape in Partnership with LucidWeb," Press Release August 2017.
10. Training, "The Impact and Potential of Virtual Reality Training in High-consequence Industries," January 2018.